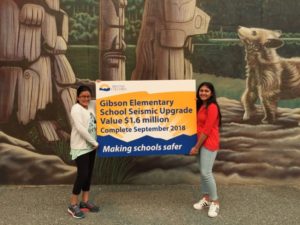 The Minister of Education, Minister Rob Fleming, visited Gibson Elementary on the first day of school, along with our local MLA Minister Ravi Kahlon, and with many Delta School District Executive staff and trustees in attendance as well as Gibson PAC members, to announce the Gibson Elementary School Seismic Upgrade Project (value $1.6 million). Many thanks to our Trustee Chair Laura Dixon for her kind words as well as to Gurpreet Sanghera who spoke on behalf of the PAC. We even had a group of our students represent the face of our school during this event.
The work will take place starting late Spring 2018 and will be completed September 2018. The work comprises of retro fitting an already safe school to an even high 21r century standard of protection against an earthquake. The work will occur in the hallways, classrooms, library our office and gym toot only ensure a safer place to learn and work in, but also make Gibson a healthier school with removal of any hazardous building materials that is remaining from the original build in the early 70's. The finished product will make Gibson feel like a new school once complete.
The Ministry and the Delta School District (who will oversee the project) will minimize disruption to student learning and will be working closely with staff and the administration to manage this project.